The CPC-CBT and TF-CBT training programs offered are based on best practices for the dissemination, implementation, and sustainability of evidence-based models in agencies. In the fields of child abuse, trauma, and mental health, we are just learning about how to best help agencies learn, implement and sustain evidence-based therapies. Research tells us that one-time training events are not sufficient, but that in-person training in conjunction with ongoing consultation involving practice and behavioral rehearsal promotes learning of evidence-based therapies.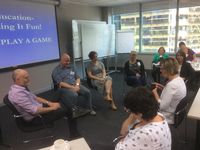 Training packages are available in two evidence-based therapies (EBTs), Combined Parent-Child Cognitive Behavioral Therapy (CPC-CBT) and Trauma-focused Cognitive Behavioral Therapy (TF-CBT).
There are three training options available to organizations. The first two training options listed incorporate LC methodology. The first is more intensive than the second. Regardless of which of these two training options you choose, it's important to note the following:
Trainings that incorporate the LC methodology are not a typical one-time training event. Rather, it is a process of learning, practice, and networking activities designed to enable clinicians to:
build evidence-based knowledge and practice skills concerning the respective therapy model,
implement, use, and practice those skills on a daily basis with clients,
receive expert consultation concerning the cases they are seeing,
measure their progress over time,
sustain the use of the therapy in their organization and community long after the training and consultation services have been completed, and
provide clinicians with an opportunity to work with LC members to identify and overcome barriers to families receiving the respective therapy in their community.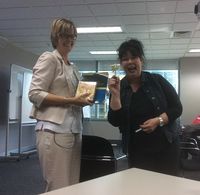 There are some recommended prerequisites to CPC-CBT training regardless of the training package selected. Engagement is a critical component to working with the physical abuse population where parents are often reluctant to participate in therapy and may be hesitant to change their parenting behavior and interactions with their children. As such, training in evidence-based engagement strategies to increase attendance to initial treatment appointment and ongoing participation in treatment is highly recommended. Motivational interviewing is an important skill for the CPC-CBT therapist to use to motivate parents and youth, in some instances, to change behavior. Motivational interviewing and theory is woven throughout CPC-CBT. Since it is not possible to review the underlying tenets of motivational interviewing in the CPC-CBT training, it is highly recommended that participating therapists attend a basic motivational interviewing course/workshop (on-line or in-person).
In addition to the training packages in CPC-CBT and TF-CBT, training packages are provided in evidence-based engagement strategies to increase the likelihood that children and families involved in the child welfare system seek services, attend initial intake appointments and follow through with services.
The cost of initial training depends on the type of training preferred and the number of staff to be trained. Three training options for CPC-CBT and TF-CBT are described below and are available at a range of prices.
The first training option involves a formal LC which consists of pre-work, three 2-day in-person learning sessions spaced over the course of eight to twelve months with 12 consultation calls with clinicians in the implementation of CPC-CBT occurring twice per month between the learning sessions and calls with leadership and supervisors to promote sustainability of the therapy model. To learn more about the LC training methodology and requirements, please refer to the LC Implementation Manual (Markiewicz, Ebert, Ling, Amaya-Jackson, & Kisel, 2006) on the National Child Traumatic Stress website (NCTSN.org).
Many agencies opt for the second training option that incorporates some of the LC methodology but is relatively less intensive. This involves three full days of in-person introductory training on the model that includes role-plays and performance feedback. Because the program is highly structured, ongoing consultation that occurs twice per month (12 calls) for at least one full cycle of therapy is recommended for clinicians as well. Feedback on audio taped client sessions is highly recommended.  Calls are also conducted with leadership and supervisors to address system barriers and support the development of agency protocols that promote sustainability of CPC-CBT in the organization. Two days of advanced training is offered after the initial training sessions to address advanced concepts and questions that arise after clinicians have implemented the model with clients.
For agencies that are unsure if they are able to commit to the above requirements or who need additional information about CPC-CBT to determine if it is feasible to implement the model, a third CPC-CBT training option is available. This option involves a one-day informational training in the model that includes role-plays and performance feedback. However, agencies should not expect staff to be able to fully implement CPC-CBT after a one-day training event. If after participating in the informational training, agencies feel as though they are interested in implementing the model, they are eligible to participate in one of the other two training options listed above.
Consultation packages are available to assist leaders in agencies in training and sustaining evidence-based therapies in their organizations.
Consultation packages are available to assist states, systems or organizations in establishing trauma-informed systems of care to meet the needs of children and families involved in the child welfare system.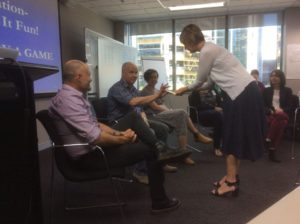 There is also a CPC-CBT Train-the-Supervisors training package available for agencies, systems, or countries with a desire to continue to disseminate CPC-CBT long-term. For example, 5 trainers were trained in Sweden and the Swedish trainers have trained over 100 therapists at 13 agencies across Sweden in CPC-CBT.
The training packages described above are also available for TF-CBT with the exception of the Train-the-Supervisors training package. TF-CBT Train-the-Supervisors packages are offered on a competitive basis by the TF-CBT developers only.
For more information regarding fees and training in CPC-CBT or TF-CBT and whether one of these therapies is right for your organization, contact Melissa K. Runyon, PhD at 609-247-5273 or [email protected].